The Best & Most Memorable Boxing Moments from Each Month in 2011
In our continued effort to highlight and remember all of the best and worst of the year in boxing, right here you'll find a special list of the top 12 boxing moments of 2011.
There's one moment taken from each month, which means that these might not be the absolute top 12 best highlights or memories, but the 12 moments which will take us through the tumultuous roller coaster ride that was 2011 in boxing. From month to month, they are the events that kept the boxing world buzzing.
Both good and bad moments are included in the list, so that any happening that stood out the most gets spotlighted. Take a look.
January – Bradley vs. Alexander Fails
The 140 lbs unification showdown between Timothy Bradley and Devon Alexander failed in just about every way. It wasn't exciting, it didn't deliver a conclusive verdict and nobody wanted to go to snowy Detroit to see the fight live. Boxing's 2011 got off on the wrong foot here, and all throughout the year, was never able to quite get on track.
February – Donaire KOs Montiel
Nonito Donaire earned 2011 Knockout of the Year honors with his TKO2 win over Fernando Montiel in February. There's not much better than seeing one of the best fighters in the game make his mark against top-flight competition, especially when it comes in such devastating, spectacular and ferocious fashion.
March – Klitschko vs. Solis Ends in 1 Round
With his amateur background and size, Odlanier Solis had all the right traits to disrupt the Klitschko stranglehold of the heavyweight division. He was looking good for about two and a half minutes. Then his knee gave out. Fight over. Next.
April – April 17th Bonanza: Berto-Ortiz & Salido-JuanMa
Unknowingly to boxing fans everywhere, they would witness both the 2011 Fight of the Year and the 2011 Upset of the Year on one night, April 17th. Salido shocked the world with his KO win over JuanMa Lopez, and Victor Ortiz took home a welterweight title with the biggest win of his career, which also happened to put him in line for a date against Floyd Mayweather. Two fights like this on one night was a memorable, special treat for boxing fans.
May- May 21st: Hopkins Oldest Champion Ever, Downfall of Roy Jones Jr. Continues
Bernard Hopkins becomes the oldest champion in the history of boxing by defeating Jean Pascal in their rematch. Meanwhile, across the world on the same night, Roy Jones gets brutally knocked out in a cruiserweight fight against Denis Lebedev. The careers of the two rivals couldn't be farther apart, and for better or worse, each man made an imprint on the sport with his latest offering in the ring.
June – June 25th Robbery Night: Sturm-Macklin & Alexander-Matthysse
For the third straight month, one evening with two separate fights writes its epitaph. Here, the month gets remembered for two terrible decisions, Felix Sturm retaining his titles over Matthew Macklin, and Devon Alexander escaping with a win against Lucas Matthysse. Unfortunately, neither of these two terrible calls was outrageous enough to be the worst of the year.
July – Williams Gets Decision Over Lara
The honor of the worst decision of the year goes to Paul Williams getting the nod over Erislandy Lara. I've written about this fight a dozen times by now. The right descriptors to describe the injustice still aren't quite available to me. When all three judges get suspended for their scorecards, in boxing, you know it's an awful outcome. When Roy Jones (see the month of May above) is worried for another fighter's health, and that fighter wins, it's an awful outcome.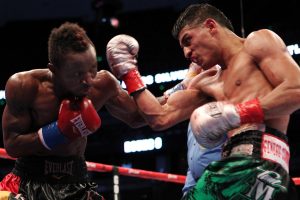 August – Mares-Agbeko Controversy
The referee in the Joseph Agbeko vs. Abner Mares bantamweight title fight deserves some credit. He should have gotten the 2011 Honey Badger Award from ProBoxing-Fans.com. As in, the person in boxing who didn't give a shit, period. Dozens of low blows? I don't care. Knocked down from a low blow? Shouldn't have gone down son, I'm giving you a 10 count!
September – Mayweather-Ortiz KO & Aftermath
Floyd Mayweather and his "two-piece" stole the show in September. Of course, it wasn't just the controversial knockout which created all the buzz, it was the post-fight interview he had with Larry Merchant. At least the punches landed on Ortiz, and not Merchant, although Mayweather might change that around if he had another chance.
October – ZZZ; Hopkins-Dawson, Donaire-Narvaez
The sport capitalized on all of the attention it received in September, by offering little, if anything, of value to boxing fans in October. Yea, let's put Hopkins vs. Dawson on PPV. That's a good idea. Oh, the fight ended in 2 rounds because of a body slam and a shoulder injury? Great. Dawson gets ruled as the winner, then it gets overturned? Awesome. Oh, at least the always exciting Filipino Flash is fighting again, finally. Wait! WTF was that for 36 minutes?
November – Pacquiao and Marquez Even Again
Manny Pacquiao and Juan Manuel Marquez battle it out for the third time, and surprise surprise, they remain perfect foils for one another. Many people were unhappy with the decision here, however, at least it was an exciting fight. Especially when compared to all of the other awful decisions in the year, this wasn't a robbery.
December – Ward & Mares End Tournaments & Begin Reign
Both of Showtime's tournaments come to a close in December. The bantamweight tourney officially ends with the Mares-Agbeko rematch, and this time Mares wins without controversy. The Super Six ends its two year run with Andre Ward's supreme performance against Carl Froch. Two deserving tournament winners with Ward and Mares.
By my count, that's five months that ultimately get cast in a good light. Even if you don't like who won or lost a particular fight, it was a meaningful or exciting in the ring moment which was what mattered the most in those 30 or so days.
Six months get "bad" ending grades, mostly due to controversies like bad decisions. May was an even month, with Hopkins being a positive and the decline of Jones being an ongoing disaster.
That's a 5-6-1 record. If 2011 was a professional boxer, he'd be a tomato can. Of course, all tomato cans have a purpose – to make the next big thing look that much bigger and better. Hopefully the unproven 2012, sporting a shiny 0-0 mark, comes in and blasts it out at the first chance it gets.